Weed Removal & Maintenance
Weed Control in the Grand Valley
One thing you can count on during Spring in the Grand Valley is weeds! Weeds begin actively growing when the ground starts to warm.
They can be especially troublesome in non-turf areas such as landscape beds, gravel driveways, as well as fence lines. They also form in areas where there is no competition from a thick strand of healthy turf grass.
Most of us don't have the time nor the desire to be constantly pulling weeds. The most labor efficient alternative for such areas is a consistent weed control program. With this program we use a pre-emergence herbicide to kill germinating weed seedlings. If there are weeds that escaped the pre-emergence herbicide treatment, we also use a post-emergence herbicide to control these weeds.
Liqui-Green has the professional expertise as well as the equipment necessary to control weeds on your property. We've been successfully controlling weeds for homeowners, ranchers, farmers as well as other landowners in the Grand Valley for over 25 years and we can help you too!
Call (970) 256-1928 for your FREE Estimate.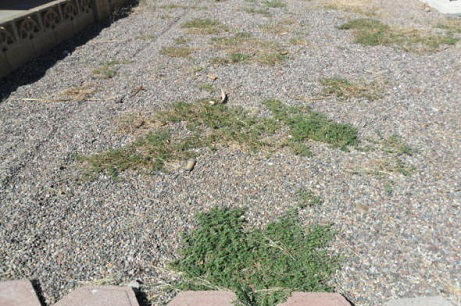 LiquiGreen Weed Suppression Program Schedule
| | |
| --- | --- |
| Early Spring Application | Pre- and post-emergent herbicides. |
| Late Spring Application | Pre- and post-emergent herbicides. |
| Mid-Summer Application | Post-emergent herbicides. |
| Early-Fall Application | Post-emergent herbicides. |
Additional Areas Treated (Beyond Lawns)
Vacant Lots
Fence Lines
Pipelines
Oil & Gas Well Sites
RV Pad Sites
Acreages
Pastures
Driveways